HAI JUST HUG THE BEAR TWICE (double click)

WITH U'R MOUSE




"A WORLD APART"(my collection)

A world apart...so far away and then one day we met;
Not on the street or face to face but on the internet.
We seemed to instantly connect; the pleasure was all mine
To welcome you into my world of friends I've met online.
The cyberworld's a magical place where friendships come and go
And if they're really special they seem to flourish and grow.
Although I cannot "see" you or "hear" the words you say;
Your friendship's in my heart and there will always stay.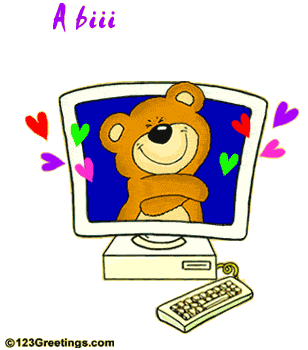 I...

L ike the way you have
O f making me feel
V ery special in your
E yes

Y ou take the time to
O pen your heart and
U nderstand me...